1378
Tricoglam Home Use
Tricoglam Home Use uses the power of LED to combat hair loss.

The results are clear to see on the whole crown – the hair stem is thicker, the hair diameter more robust, making your whole hair denser. Because of the presence of 105 LEDs (light-emitting diodes), this high-tech instrument reinvigorates the metabolic processes within the cells, thus increasing microcirculation.

What are the benefits of Tricoglam Home Use?
EFFECTIVE – using LEDs increases the chances of reaching hair follicles, making it a really efficient way of boosting microcirculation
PRACTICAL – you can wear it at any time of the day, allowing you to continue your normal daily activities. It's portable and easily rechargeable with a convenient USB port
FAST – you only need to use it for 20 minutes a day
Recommendations for use
Directions for use: Place the helmet directly on your head and relax into the treatment. Use it every day for 20 minutes.
Warning:
Intense Light Device. Do not look directly the light source.
Contraindications:
The use of the equipment is prohibited for
-children
-people without the natural lens
-subjects suffering from some retinal pathologies
-subjects suffering from iris and pupil alterations
-epileptic subjects
-subjects whose skin could be damaged or infected and in any case not intact
Recommendations for use: Use Tricoglam Home Use on a clean scalp and hair. It's important to make sure that the device keeps continual contact with the area to be treated. For best results, combine it with the CRLAB green HAIR LOSS PREVENTION line.

all products of the Hair Loss Prevention line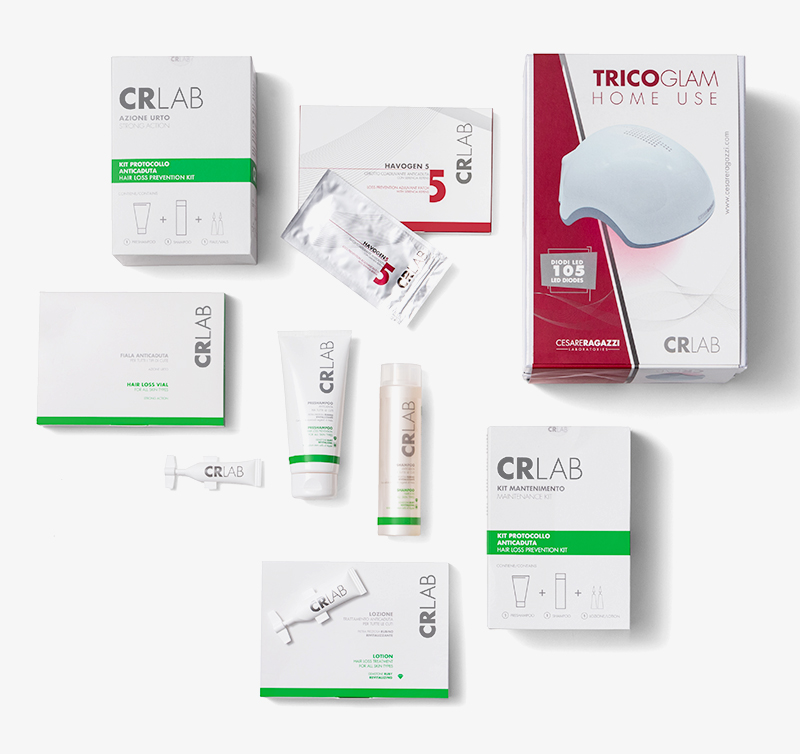 +
Complete hair loss prevention line maintenance
+
Hair loss prevention lotion
+
Hair loss prevention shampoo
+
Complete hair loss prevention line strong action
+
Hair loss prevention preshampoo
+
Hair loss prevention vial
Present in these categories